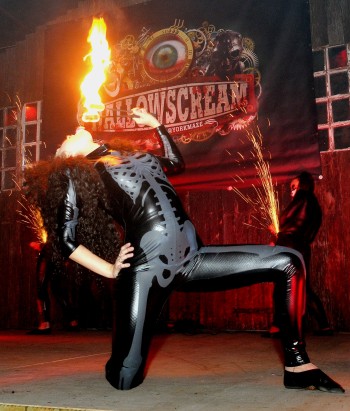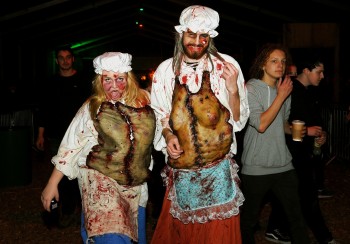 The Pastiche Team - Live on stage...
At the heart of the haunted house attractions, the Entertainment zone has a carnival feel and includes side shows, weekend offender rides, roving entertainers, music, zombie dancers and more. This is also the place to get a bite to eat, a warming drink or something stronger to calm the nerves.
It's one thing to watch a horror movie at home – you can switch it off if it gets too gory or terrifying. But what if that action is taking place on a stage in front of you, where you can't explain away the inexplicable as mere CGI or cinematic trickery?
On the main stage and housed under a giant marquee, you can watch (or even take part in, whether you want to or not!) the full stage show being performed each night. The Main Acts, will be on every 20 minutes, with Dancers in between, and a few shocks along the way...
Schedule for each night (Main Acts)
7:30pm - Poltergeist
7:50pm - The Serpent Queen
8:10pm - Vampire Lair
8:30pm - Kiss of the Black Widow
8:50pm - The Purge
9:10pm - Burned - Alive Cremation
9:30pm - Fire Hell
9:55pm - Midnight Greatest Show
MAKE SURE YOU DON'T MISS OUT!!